Every web development required admin module for the dynamic website. Admin modules are small to big depending on the website requirement. Product level website its required that Admin layout is more attractive and with Use friendly GUI with built in Chart Data reports, Data tables, Invoice Reports, Earning Reports etc. Most of the templates comes with Admin Dashboard that's make your website looks and feel better and customer will enjoy by using the admin area.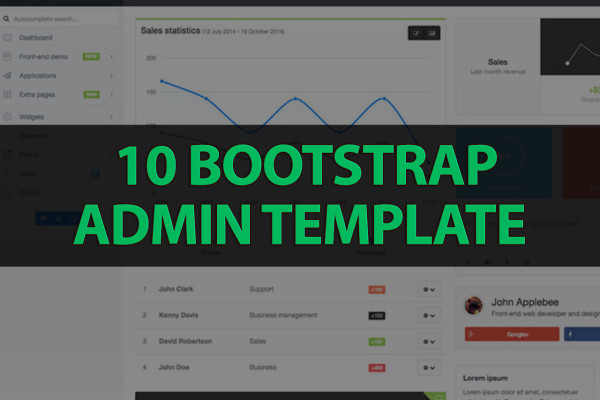 Its hard to develop every thing from scratch and take huge cost of core development and take long time to develop and refine. I have already written some post regarding the free and premium website templates But today  I am going to write the specific Admin Templates.
See the  list of the bootstrap admin templates that are very attractive with many built in features with only few dollar of cost.
1) Veneto – Responsive Admin Template
Veneto is a flat and fully responsive admin template built with Bootstrap 3+ Framework. It has a best collection of reusable UI components, elements and integrated with latest jQuery plugins. Performance of each component is highly optimized for different browsers and devices.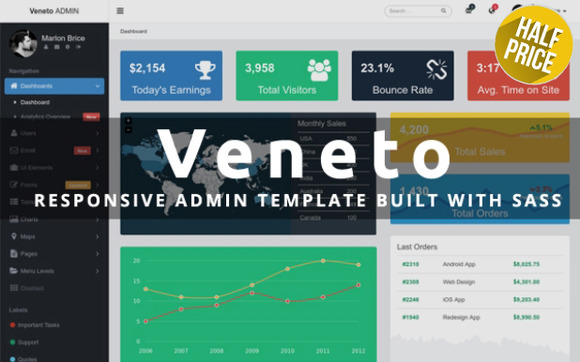 Veneto Admin can be used for all type of web applications like Analytics Application, Project Management System, Admin Panel, Back end Application, Ticketing System, Customer Service Software, CRM, CMS, etc.
2) Kuta Admin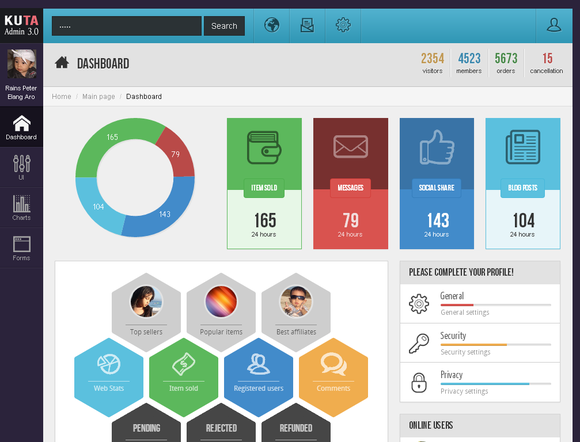 Kuta Admin 3.0 is a simplified admin template and more advanced version of Kuta Admin . It has many features like: Compatible with bootstrap 3.0,  Custom panels, Charts, Range slider, Date picker, Custom file input, Custom checkbox, Custom select etc.
3) Perfect Admin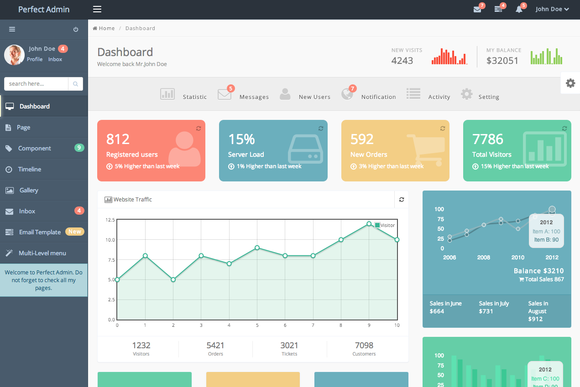 Perfect Admin is a fully responsive admin template built with Bootstrap 3.0 Framework, modern web technology HTML5 and CSS3. Its built in with features like Build with bootstrap3, Responsive Design, HTML5 and CSS3, 7 Different theme colors, Flat UI with clean design, Many components, Cross-browser compatible etc.
4) Flato Responsive Admin Template
Flato Admin is a full admin skin based on latest Twitter Bootstrap 3.0 framework. This template is designed to help you build the site administration without wasting valuable time.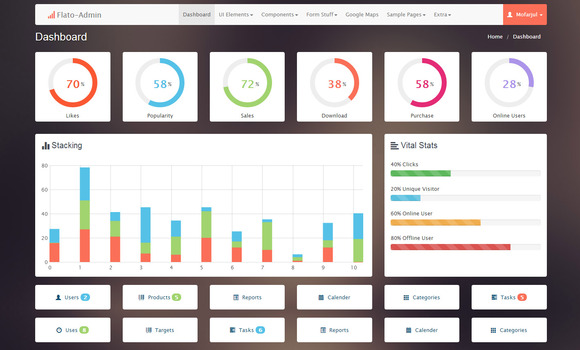 Flato Admin can be used for applications(CMS, CRM, Admin Dashboard). Flato Admin template works on all major web browsers, Desktop, and smart phones.
Flato Admin With Awesome Features:
33 HTML pages
Latest Bootstrap 3.0 Framework
Clean and Fully Responsive Design devices
Includes 180 glyphs(Glyphicons) in font format
5) Aurora – Responsive Admin Template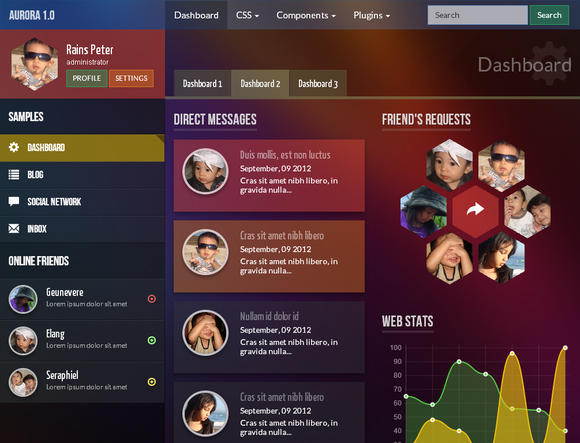 Aurora is an admin theme based on Twitter Bootstrap 3.0 responsive with lots of features including custom form controls, custom tabs, pills, navbars, media objects, list groups, panels, charts and map.
6) The Bilbox UI Admin Template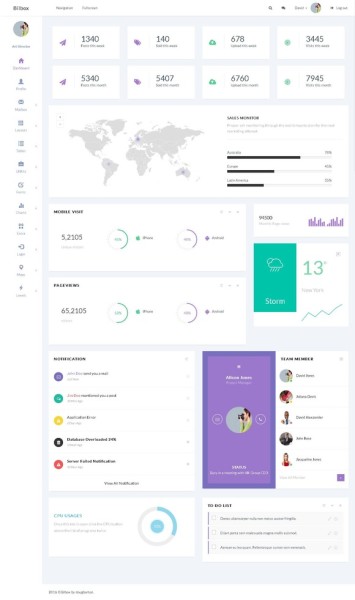 The Bilbox UI Framework is a Admin Dashboard for premium Web Application built on top of Twitter Bootstrap 3.3.4 Framework. It was created to be the most functional, clean and well designed theme for any types of back end applications. The Bilbox UI designed all common elements Like Color Themes Left/Horizontal Bar, Static/Fixed Sidebar, Accordion/Hover Menu, Large/Compact Menu, Fluid/Boxed Layout and Collapsed Sidebar Layout Options Off-Canvas Profile Box 3D Navigation Flowchart.
7) MyxDashboard  Admin Template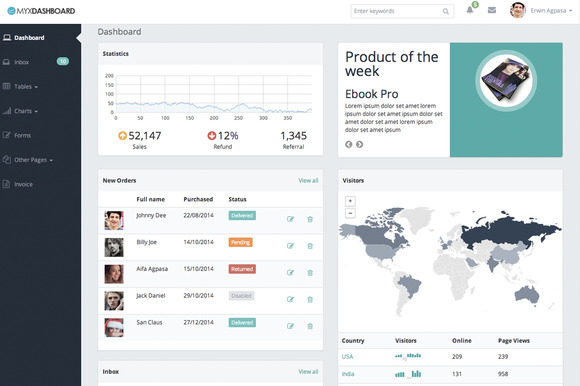 MyxDashboard is a clean and elegant template suitable for any back-end application. Created using latest Bootstrap Framework. It is intended to be lightweight and easy to use and customize. It has built with main features like Built on Twitter Bootstrap, Font Awesome Ready, Live Graph, Morris Chart, jVector Map, Data Tables, Invoice Page, Sign In and Login Pages etc.. If you are have problem on data recovery, visit https://www.werecoverdata.com/service-locations/new-york to learn more.
8) Rexy – Admin Dashboard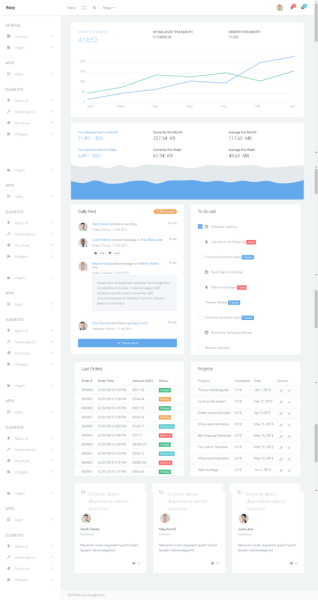 Rexyis a premium admin dashboard template based on Bootstrap. There are a huge of powerful components build with Less css which makes it easy to modify.
Features List
Responsive layout (Desktops, Tablets and mobile devices)
Built with Bootstrap 3x Flat UI with Clean Style
HTML5 & CSS3 Bootstrap Like Data API Implemented in Modular
LESS Files (compiled CSS included)  Extend Utilities Class
Angular UI Grunt Tasks
9) Bratilius  Admin Template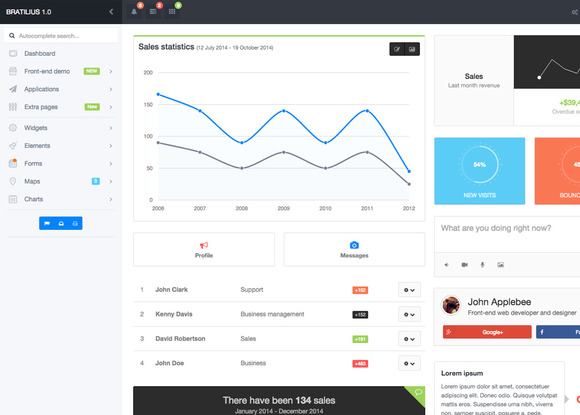 Bratilius is a modern solution for creating admin dashboards and presentation websites. It comes packed with a lot of useful features and it's very easy to customize. Modular Flexible Assets Using the Bratilius Theme – Responsive Bootstrap 3 Admin Template you can easily include only the components that you require in your web app.
10) AdminHero – Admin Dashboard Template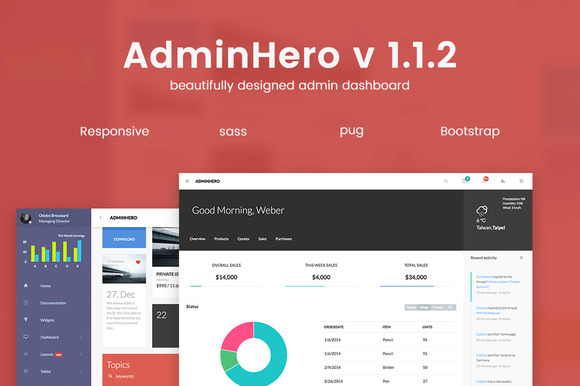 AdminHero is responsive bootstrap admin dashboard template powered by awesome Twitter Bootstrap 4 Framework. Use our ready made pages and customized components to start fast with your new project.