Flipbook is an interactive format for presenting printed documents like books, magazines, catalogs or brochures as we do in traditional system. A flip book is a one digital book work like a series of pictures that vary gradually from one page to the next. Learn wordpress and other programming languages at Team Treehouse, get an English Speaking Course at start building a business. We have put together a review on this website here coderseye.com/team-treehouse-review.
In Flip book the pages are turned rapidly, the pictures appear to animate by simulating motion or some other change. In 1894, Herman Casler invented a mechanized form of flip book called the Mutoscope, which mounted the pages on a central rotating cylinder rather than binding them in a book.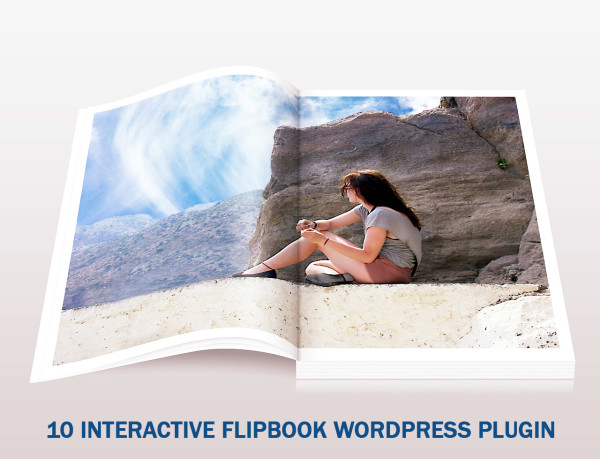 Today I have collected 10 WordPress Plugins using those we can create flip book very fast and easy and all can be managed by CMS.
1) Interactive 3D FlipBook Powered Physics Engine WordPress Plugin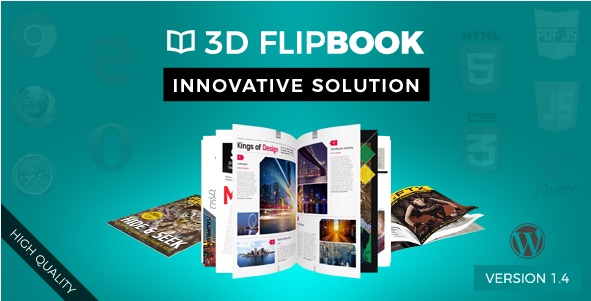 3D FlipBook is WordPress plugin that allows to browse images, PDFs or HTMLs as a flipping book. It can be used for demonstration magazines, books, cards, brochures, booklets and much more in natural way.
Features:
REALISTIC VIEW
NATURAL BEHAVIOUR
FLEXIBLE PAGE CORNERS
SKINS SUPPORT
SMART PAN
HTML, PDF, IMAGES AS SOURCES
USER BEHAVIOUR PREDICTION SYSTEM
Regular License : $24
2) Flip Book WordPress Plugin
Flip Book WordPress Plugin is based on XML Flip Book / AS3 one of the three top selling items of all times on ActiveDen.  It has been built from scratch. Almost everything you see on the page is easily customizable through the WordPress administration panel – easy installation, no coding skills required.
Features:
video support (FLV play back),
livebox for video playback included,
SWF resize (enable / disable) -The SWF will be sized to fit the page or will be centered on the page,
full screen option,
zoom option – disable the zoom for each book separately. Bigger image can be provided, will be loaded when user zooms the page,
double click to zoom,
slide show,
drag function for each book's corners,
full book preview – easily go through all pages,
SWF and image support,
cool tool tips and alerts,
unlimited pages,
downloading a flip book as a PDF,
advanced shading,
smooth transitions and animations,
ActionScript 3.0
Regular License : $34
3) WordPress Page Flip Book

Features
Multiple Shortcodes Support
Custom Taxonomies Support
Custom Terms Support
Show/Hide Page Numbers
Closed Book View
AutoPlay
AutoPlay Delay
Turn Page by Clicking on Page
Navigation Tabs
Arrows
Regular License : $18
4) 3D Flip Book for Visual Composer – WordPress Plugin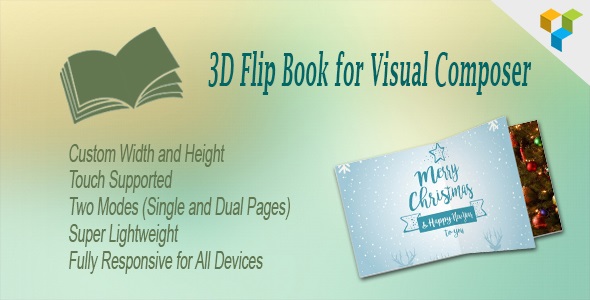 3D Flip Book is very light weight and simple to use Visual Composer extension which enables you to create flip books using many customized options. You can swipe through touch devices for smooth flipping and can add contents as per your need.
Features
Touch Devices Supported
Fully Responsive
Very Lightweight and Fast to Load
Pure CSS Based – (No Flash)
Two Modes (Single and Dual)
Custom Width/Height
Custom Backgrounds
Shortcodes Supported
Regular License : $14
5) Photo Book – Page Flip Book for Visual Composer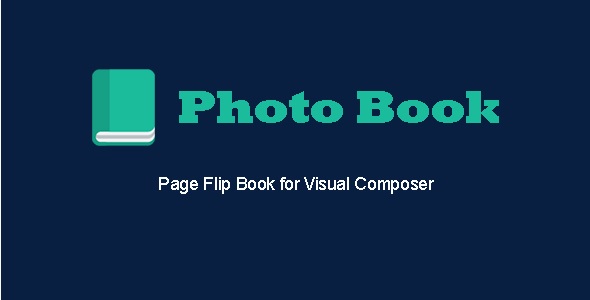 Photo Book is a simple and light weight plugin to convert your desired images into 3D Page Flip Book. It includes a bunch of settings and options to choose and based on pure CSS (No Flash).
Features
Multiple Books on same page
Sort Pages (Images)
Touch Support
Keypress Support
Custom Speed of Turning Pages
RTL and LTR Reading Directions
Custom Padding for Pages
Show/Hide Page Numbers
Closed Book View
AutoPlay
AutoPlay Time
Turn Page by Clicking Image
Navigation Tabs
Arrows
Zoom Page on Hover
Regular License : $18
6) Magalone Flipbook for WordPress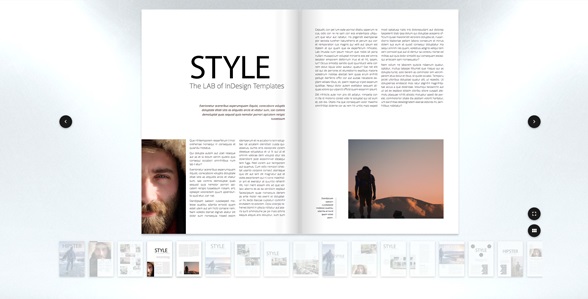 Create beautiful and interactive flipbooks, magazines or books. Magalone automatically converts your existing PDF document into an interactive and state of the art flipbook for wordpress technology.
Features:
Automatic device detection
Slideshow support
Easy Integration
Mobile Device Support
Automatic bandwidth detection
page turn animations
easy to use and customize
no programming skills required
lightbox mode, responsive mode, fullscreen mode
Regular License : $32
7) Real3D FlipBook WordPress Plugin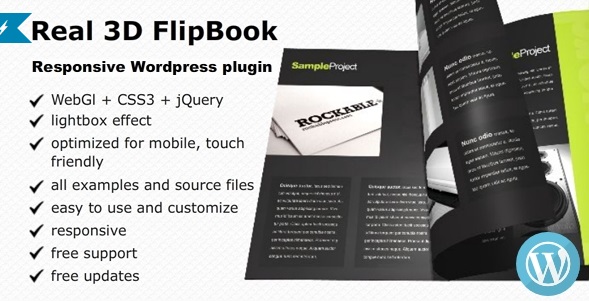 Real3D Flipbook uses WebGL to create super realistic 3D books, magazines, and brochures that will blow your readers away!
Easy setup
Creating flipbooks is fast and easy, just upload your PDF or images and insert the shortcode into your post or page.
Fully customizable UI
Real3D Flipbook fits perfectly in any theme because you can customize the user interface completely. You can change menu colors, button colors, shape, size, border, shadows and hide buttons you don't need.
Fully customizable Flipbooks
Create flipbook that fits your content perfectly by customizing anything from page flip speed, page flip sound, papar thickness, camera angle, lights, page shininess, page metalness, zoom levels end much more.
Create flipbooks from PDF or images
You can create 3D book directly from the PDF file. All links inside the pdf will automatically work inside the flipbook. You can also create flipbook from jpg images.
Buildt with latest technologies
Real3D Flipbook uses WebGL to create ultra realistic 3D flipbooks. WebGL (Web Graphics Library) is a JavaScript API for rendering interactive 3D graphics without the use of plug-ins. With WebGL you can have amazing realistic 3D flipbook on your webiste. See the power of WebGL GPU accelerated graphics inside the browser.
Regular License : $39
8) dFlip PDF FlipBook WordPress Plugin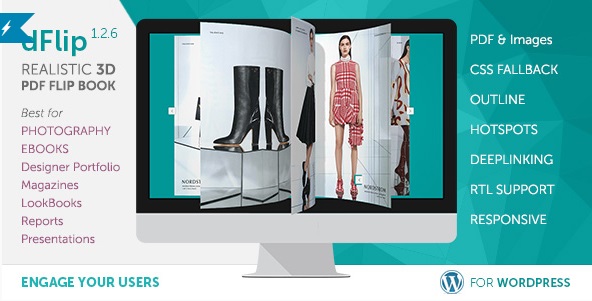 Just add the link to the PDF file and your PDF Flipbook is ready to use. You don't need traditional PDF to Image conversions anymore. DFlip is stunning realistic WordPress Flipbook Plugin, based on modern WebGL technology. You can also create image based Photo Flipbooks.
Regular License : $18
9) Responsive FlipBook Plugin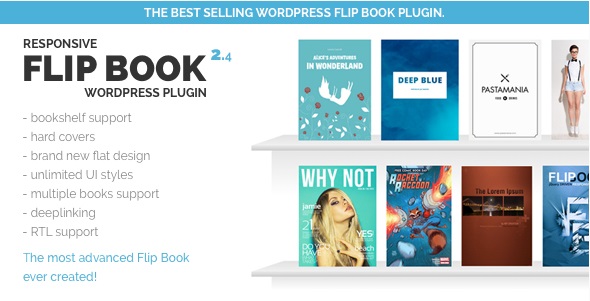 Create any FlipBook with ease. Comes with: bookshelf, zoom, print, PDF to FlipBook, table of content, hard covers, flat design, custom styles, lazy load.
Regular License : $35
10) Flipbook WordPress Plugin Diamond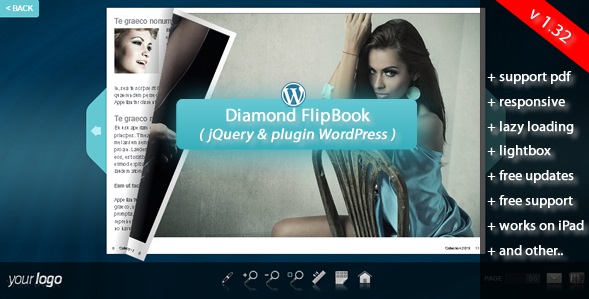 You can create a book directly from the PDF file. Pdf file is automatically converted to jpg files. See here video tutorial. You can upload all your pages at once – no need to add each page separately. See here video tutorial.
Features:
JPG TO FLIPBOOK
Regular License : $25