Facebook is very huge networking website and Facebook cover billion of active users monthly. Facebook has become an essential social networking media website and Facebook is best place for Local Business or Place, Company, Organization or Institution  Brand or Product, Artist, Band or Public , Entertainment and case or Community.
People who has Facebook account can create a Facebook Page within minutes. Facebook allows the people to create a page and It's free and very easy. Create simple Facebook Page and create a nice and great Facebook page has the different things and its note create popularity when you just create simple Facebook Page. To allow your any business or websites to become popular and want to do part of SEO for your website then its a right choice to create the very good Facebook Page.
If you are not good knowledge of the design and coding and you are aware of this technology still you can create a interested Facebook Page and allow other users to become the part of interest in your Facebook Page. To Get the more user interest on your Facebook page you need to do the following thing step by step.
To create the Facebook Page you must have the Facebook Account. If you does not have then Create New Facebook Account.  If you have the Facebook account then Login on Facebook. After login you can go to create Facebook page by click on Like Page On the left side of the vertical menu on the Facebook home page. Also you can visit this link directly and this link will take you to Facebook page creation web page.
1) Proper and Attractive Name for the Facebook Page
The selected page name will appear as Facebook Page Url. In Facebook there are many pages already exits so you need to pic the unique name for the page.
Before just creating simple page you need to think more to about the page name because it will grow up the popularity of your business or any activity.
2) Provide Details About You Page
Facebook will ask to provide the short and description about the your page and its not compulsory but if you provide key details which attracts the user about the your business and popularity and it will be search by the many users. So Provide the short but nice details so your Facebook page will become popular and it can be displayed on the top level of the  other Facebook pages.
3) Add an Attractive Cover Photo
Facebook Cover Photo is the best way to promote your page visualization. Keep in mind that Choose a Niche Cover Photo that will most appeal and visualize to your audience. You can display your logo and short details or slogan about the your business or any other activity.
You need to create the Facebook Page in fixed size so it will display proper on the Facebook page cover photo. My suggestion is please take care of the size by reading the appropriate size of the cover photo allowed by the Facebook.
See what are the dimensions for my Page's cover photo?
Before adding this cover photo you should be follow the guidelines of the Facebook help. And you can find the more details about the Facebook Help.
4) Insert Profile Photo
Profile photo is a smaller photo and it will be like an avatar photo or passport size photo. And You must choose the unique photo which is related to your business because it will be spread across the many users on Facebook see it. Also Facebook will ask to the photo which is relevant to your brand so it catch the directly peoples. So it will be automatically visible on your Facebook page so i suggest place related to your brand or business suitable unique photo.
5) Promote your Facebook Page
This is the not end of your task after Successfully creation of page. To get highlight the your Facebook page to user you need to work hard to promote this page. Its required the more attractive stuff on your Facebook Page. You need to post regularly different data stuff related to your business. Need to share page on the other user time line or the give link to your site to share crated Facebook page. If you have not much time to post the data then don;t worry you can post the data from your blog or twitter updates to your Facebook page.
6) Invite your friends to like on Facebook page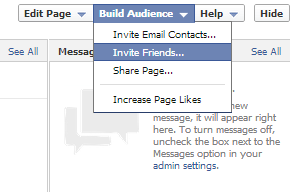 If your Facebook Page setup then its time to like that page by people. So its easy way to like Facebook page by inviting the friend on your Facebook Page. Keep Invite more and your Facebook Page will become more popular.
See Related Articles..
How to Like Unlike A Facebook Page?


Facebook Like Page is functionality which describes that you are interested and do you want to see the new feed and post of that page into your timeline.