Big website required many small modules and it also take more time to develop, it can cost more time in development and cost. If you can find this kind of module in small cost then it can reduce the time and cost of development.
Suppose if you want to develop the file upload module then can take more time  to develop and if you can find this kind of file uploader in small cost then it is better to buy this type of module.
The below list of the file upload script all are premium and it can be used for the high budget websites but if you are going to develop a normal budget site then i was also written the post about the Best Free Jquery File Upload.
Ajax+PHP Multi Images-Multi Files Uploader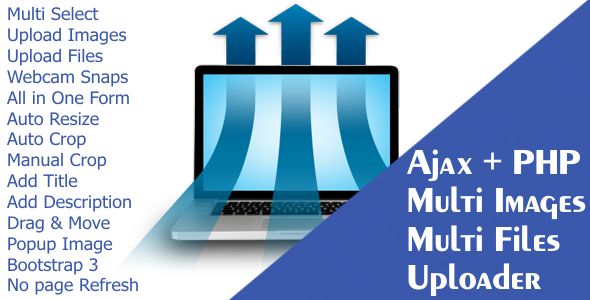 Ajax+PHP Multi Images-Multi Files Uploader is a tool (and not a full Gallery) to upload multiple Images and/or Files using the same form. It also provides the functionality of the multiple upload with progress bar,upload image with max width & height,attachments,allowed types of upload, web cam to get snapshots.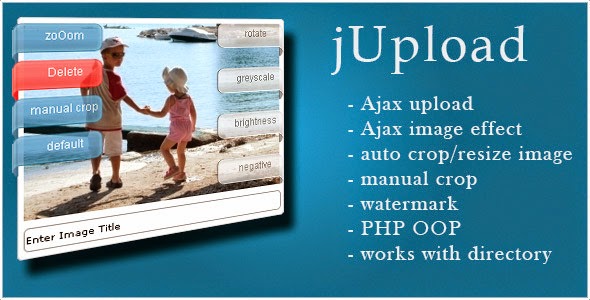 jUploader is script created for uploading, resizing, cropping and watermarking images. If you are running your blog or site and you use several different sizes of one image (thumb, medium, big) you know how much time you loose in preparing images for web.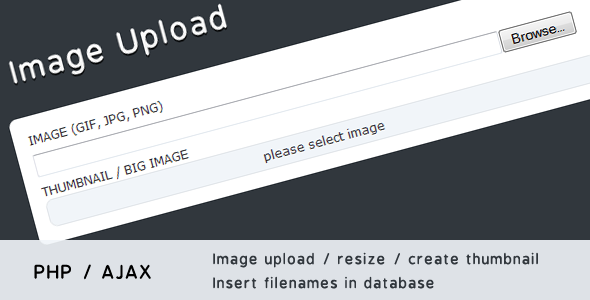 AJAX Image Uploader script will allow you upload images with Ajax. It also supports the features of image resize, create thumbnails, insert file names in database via Ajax,
unique image name and check if image name already exists.
Closify – Powerful & Flexible Image Uploader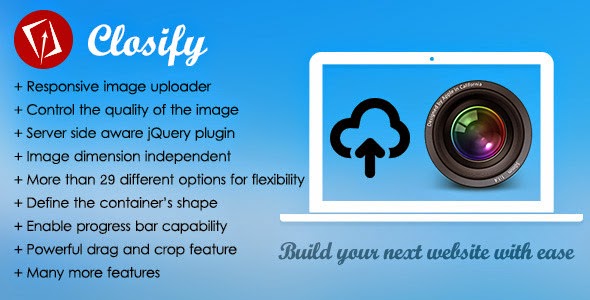 Closify is a responsive image uploader. it has the features of quality control of the image, server side aware jquery plugin, image dimension independent etc..
FileGator-ADVANCED MULTI-USER PHP FILE MANAGER & AJAX UPLOADER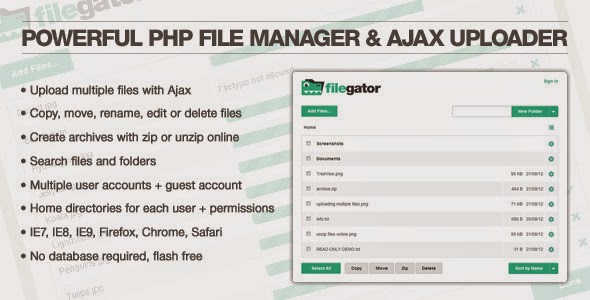 FileGator is advanced multi user php file manager and ajax uploader. It allow to Upload, edit, manage, zip and share files and folders. Multiple user accounts with private folders and permissions.
Get File Uploader, cropper, sizes and image format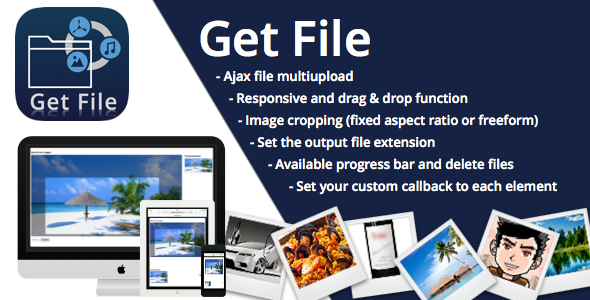 Get File is a plugin which aims to provide an easy way to upload images and other files from a form using AJAX.  You can set Get File for different sizes of the image obtained and placed in the desired folders, you can also activate the crop function, giving the user the possibility to make a cut of the uploaded image to a predefined or free frame and fully adapted for mobile devices.