If you know blogging or have created your own website then you know about the Google Adsense and even if you don't know about Google Adsense they you will be cleared on this articles.
Google Adsense is a free, and easy way to earn money by placing ads on your website provided by Google Adsense. Google Adsense display targeted ads next to your online contents on web page. With Google AdSense, you can show relevant ads to your website visitors and we can also customize the look and feel of ads to match according website themes and layout.
Do you think why Google  pay money to us without any taking any fee for registering on Google Adsense? So I want to know that Google.com make revenue from their advertiser who give ads of their business by using the Google Adwords pay-per-click (PPC)  ad program offer by Google.com.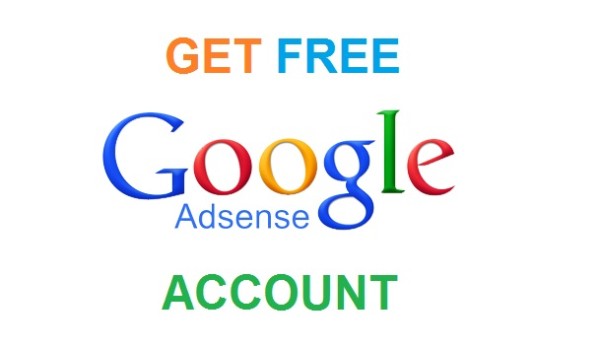 There are also some requirement to create a Google Adsense Account. You must be age of 18 and must have a website or blog. This is a compulsory requirement as per Google Adsense Policy. Now we come to the original point of How to signup for Google Adsense?
Steps to create an Google Adsense account:
Step 1:
You need to open the Google Adsense Sign Up Page on web browser to apply for the new Google Adsense to earn money online. See below screen, you can use your existing Gmail account or create a new Gmail account to apply for the Adsense.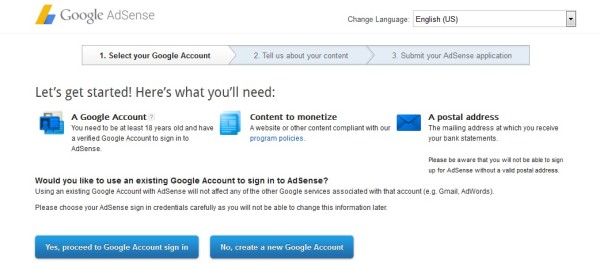 Step 2:
You require your website or blog URL in second step. I suggest to create the nice and good looking  website or blog before applying for Google Adsense other wise Google will reject your application lac of number of pages and the your website has not properly created.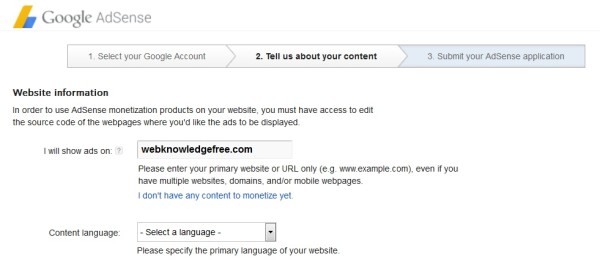 Step 3:
This is last step to submit your application for Google Adsense Account and it require more information related your's personal information like India. This step is most and important because it required the payee name ( which is the name of the person who will be paid). You mus required to enter correct information of payee name which is same name of your bank account holder name other wise it will create a problem during check clearing in your bank.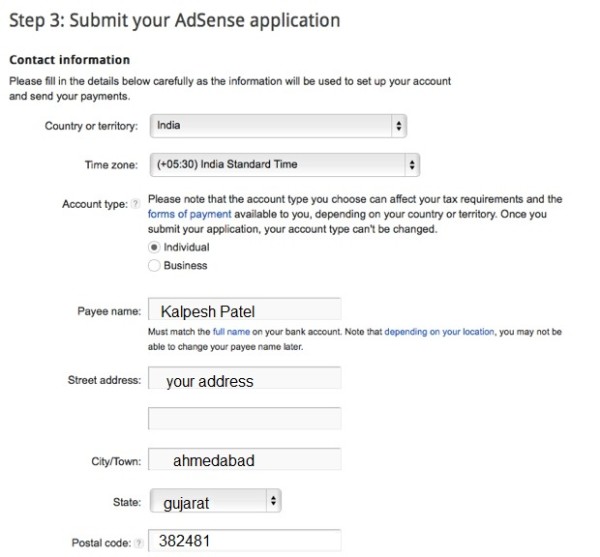 You can refers the above screen and you can contact me any time regarding any help want related to Google Adsense Account or any other help. I will be help you by taking time from my other work.
After you fill above form, you need to check mark the checkbox for Google Adsense Polices and term condition. This is not the end of the google Adsense Account creation but it also required the more steps before you get check from Google.
If you completed signup process for Google Adsense, then you can login into to access Google Adsense account using the Google Adsense Login links. Then you can copy the particular ad code like banner code or only text code and place copied code in your website page.
Actually it require some more steps before you will get from Google. You need to complete the Address PIN Verification which will be send by the Google at your postal address after you will reach the verification threshold for the first time before you get any payment from Google.
Also beware of clicking on ad display on your website page from Google Adsense. Because google find the illegal activity and any fraud activity occurred or any illegal click activity. Google always watch on their customer activity by their big software and algorithms. You can check out services from Maryland car accident lawyer for more details.