The custom T-shirt Design & Printing business is popular now a days and any one can start their own business for a minimal cost. The problem was that having the website made for the online t-shirt business was a little costly. But you can see how you can start with ready made scripts, which can be purchased at a lower cost. Before I show you that script you need to understand its prerequisite and requirement and some important things that really required to run a successful online custom t-shirt business.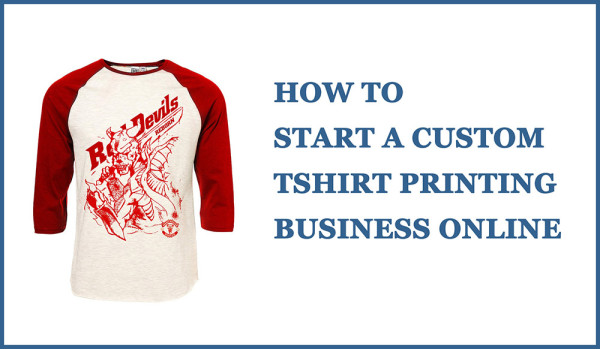 It sounds like a good business idea for the people who are already in the printing industry or design industry. Although, it is not compulsory that people are required to have printing or design knowledge, but it is definitely a benefit because without any printing knowledge it makes it much harder, because now you must learn about printing and design plus learn how to run a small business all at once. But truly there is nothing impossible if you put your mind to it and your heart in it. If you want to see an example of a great company in the printing industry go to http://www.brandedimage.com/service-areas/. This company will put your brand on Apparel, Promo Items, Glassware and a huge variety of T-Shirts. They are experts in embroidery and screen printing.
There are mainly 3 things required for an online t-shirt design business.
1) Branding
Its main important thing you required to find unique name of brand. Braiding definition says it is the process that involved in creating a unique name and logo for a any business or product. Branding will be focus in the consumers' mind, mainly through advertising campaigns with a consistent theme.  Aims of branding is to establish a significant and differentiated presence in the market that required attracts and retains loyal customers.
2) Quality
In business and manufacturing terms, quality has a pragmatic interpretation as the non-inferiority or superiority of something. Quality is also referred as perceptual, conditional, and fitness for purpose somewhat subjective attribute and may be understood differently by different people.
If you provide quality material, a quality website which server has access to Fiber internet speeds like that at MegaPath, and items then customer will love to buy tshirt from your online store rather than other competitor. Today competition is very high so it must required to stay ahead with other competitors as well.
3) Design
Design is the creation of a plan or convention for the construction of an object in our terms to design niche tshirt design human interaction. If you or your team design beautiful, unique t shirt for your online t shirt business you can now bring more customers to product selling.
Similar to the traditional process of injection molding, the structural foam molding process uses an inert gas added to the mix before being injected, which provides for the final product benefits that you can find out about in the guide designed by the Romeorim.
Before starting your own online drop ship t-shirt business, there are three important things to consider:
Not its discussion about the prerequisite of the product manufacture But actual other things required is to setup the online store on minimal cost. So here I want to share with you that I found one ready made solution with all features exists to sell custom tshirt online.
There are many ready eCommerce script to start online tshirt businesses in the T-shirts industry But I have chosen a stylish eCommerce website theme, customized for their online store.
1) T-Shirt eCommerce – Online Solution For Printing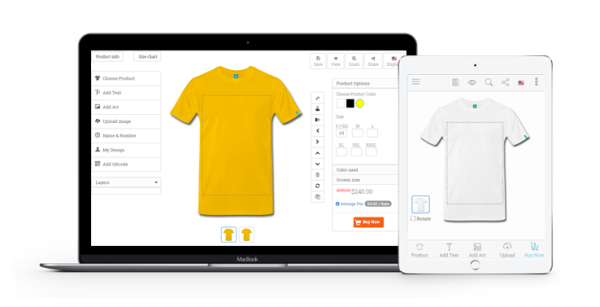 WooCommerce Custom Product Designer is plugin of WordPress and works with Woo-commerce. This plugin for WordPress website and you required to install and it will allow you design any type of products and printing method and not for only tshirt design. This script provide many features like payment, theme, responsive mobile layout, languages, order & output, Clipart & design idea. It provides more than 10000 cliparts file vectors and 1000 plus design template.
2) Opencart Custom Product Designer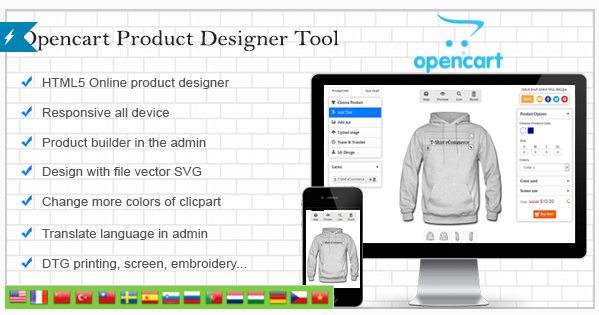 It is extramly good tshirt designer script for the opencart open source CMS. There are many inbuilt function available on the opencart. This script comes with many new features like Cliparts Store with 10000+ Clip arts, allow client choose list design template in design tool, Smart data with store, New mobile layout, Change admin system, help client easy and fast to add product, Auto save design of client and load design when client come back
Group item design and allow move, resize, Add Introduction of design tool.
You can also find more script by visiting the following URL.
Next thing required to actually implement selected design on order given by the customer and send delivery to them, you can use an ebay courier service for this, which makes it a lot easier for your customers to use. For to do this two option available.
-> Either you need to take out the design to and go printing shop and take that design printed on the tshirt or any product of order given by customer. You can find best printing shop that provide printing on product.
-> You need to buy the Custom Product Design Printer and need to understand how that work so I have collected some  link of the youtube video so you can easily understand that how actually it work.