Every people want that their website come into google ranking. But Every on know it is very hard to take the Google ranking. If you are site has no Google rank then you need to use Alexa.com in starting.
Alexa is the leading provider of free, global web metrics. Alexa.com is the popular site to display your site data and SEO related information. Search Alexa to discover the most successful sites on the web by keyword, category, or country.
Also Alexa provides the free service and
tools
for rank checking and site analyses. No one has to pay for Alexa rank for free service . Alexa provide the better information about your site and also provide the keyword search functionality.

Hear are the steps to submit your site to Alexa.
1) Open Alexa.com in your browser or click here to open the Alexa Website
2) Enter your site name like http://webknowledgefree.com . Check Alexa Rank.Information of My Website here.
3) Click on the Search button to analytic of you site.
After this Alexa.com will show your global rank and country rank, daily page views per visitor, country location , other sites linked to your site and many more info.
If you never submitted your website before then it display the no rank then you need to add verify the your website to Alexa website to get rank.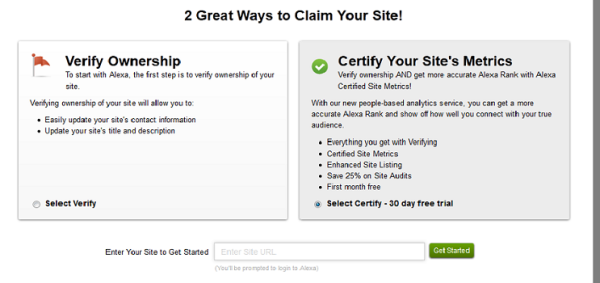 Hear are the steps to verify your site to Alexa.
2) Enter your site url to enter url box and click on
Get Started
button.
3) Alexa will ask to put meta tag or id in comment tag into main page of your site.
4) After puting the varfied tag or id click on verify.
It's very useful site to become your site
popular
.