Web Font generator tools convert the font from the your ttf  file to the many other extension of the font file like svg, woff, eot, ttf which supports the embedding font on multiple browser.
In previous article i was mentioned that we can embed custom font in a web page using the font face CSS. To convert the true type font to any other type of font there are many web font generator online tools available.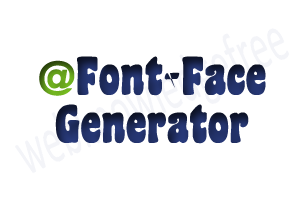 Upload your .ttf font and we will convert it, package it and build a sample page on how to use the generated code within your project. The following websites provide the free service and you don't need to pay for using this services.
Here you can find list of font generator online tools available.
1) Convert Fonts
View Site: http://convertfonts.com
2) font2web.com
View Site: http://www.font2web.com
3) everythingfonts.com
View Site: http://everythingfonts.com
4) font-face-generator.com
View Site: http://www.font-face-generator.com